Patchwork designs in handpainted needlepoint and kits - fun, colorful, contemporary or traditional
Patchwork refers to the process of joining strips, squares, triangles, hexagons, or other shaped pieces of fabric (also called patches), by either hand or machine stitching, into square blocks or other units. It is one of the primary construction techniques of quilting. Patchwork began by piecing small pieces of fabric together to create a larger piece. The earliest examples have been located in Egyptian tombs and in early age of China about 5000 years ago. Apparently, the ancients also ran out of fabric and had to come up with a creative solution. (And if you've ever seen one of my sewing projects you'll know what I mean -- a piece is always missing, or too short.)
Although Patchwork was started by piecing fabric to make quilts, like many other techniques it has been adapted to needlepoint. In needlework a "Patchwork" pattern is used to describe projects which have small areas in different designs, colors, or textures. Patchwork needlepoint can be found in kits with yarn and instructions, or on hand painted canvas.

Patchwork Needlepoint kits are made by all of your favorite: Primavera, Animal Fayre and of course, Jolly Red. Designs can be in similar, regularly shaped patterns of different colors . . .


Magic Flowers by Jolly Red
Scattered patterns with a similar theme . . .
Little Heart Patchwork by Animal Fayre
A combination of themes with a regular pattern . . .
Hearts & Flowers in Blue by Jolly Red
Contemporary . . .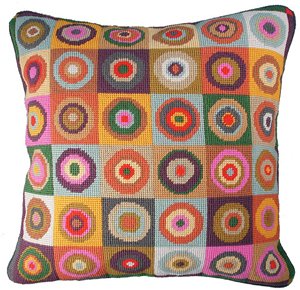 Magic Circles by Jolly Red
or Traditional . . .
Shaker Patchwork by Primavera
Christmas Stockings . . .
Alphabet Christmas Stocking by Jolly Red
or even little stitch & zip or Canoodle kits.
Flowers Canoodles kit
;
Patchwork Stitch & Zip cosmetic purse
;
Hearts Canoodles Kit
In other words, there's no limit as to the type of design you can get in patchwork needlepoint kits.
Not to be outdone by our kit designers, many hand painted needlepoint designs also have a patchwork theme. And there's vast variety here too. Pick from contemporary . . .
Masks by S Garris
;
Bird Houses by Pippin
;
It Takes a Village by S Garris
,
Contemporary Collage by UniqueNZ
or traditional.
Bees & Daisies by the Collection
;
Olives by Pippin
;
Talavera Tiles by Unique
;
Daisies by Pippin
Here are the top 5 reasons to do a patchwork design:
1 – You get bored easily and there's lots of pattern here.
2 – You want to use up your stash.
3 - You like symetry and balance.
4 - Your other passion is quiliting and Patchwork needlepoint satisfies that urge. (We don't want to take you away from your needlepoint!)
5 – You like the design & it's the only way it comes.
Did you enjoy this article?
Share it on Pinterest or Facebook...or both....or any other social media platform you "enjoy".


But, most importantly, don't miss out on reading more information just like it. So, if you're not already tuned in...
Sign up for our FREE bi-weekly newsletter.

You'll get exclusive content like you've just read, you'll hear about new designs and kits as soon as we receive them, plus we run a lot of specials on popular items that only our newsletter readers hear about.


SaveSaveSaveSaveSave
Save