Needlepoint Tapestry Canvas Design & Stitch Guide
We'll show you how you can turn this striking color-printed Ikat needlepoint tapestry canvas design...
into this fun-to-stitch small needlepoint project...
...and then, into this lovely piece of wall art (A tutorial for how to frame your needlepoint project into this contemporary style will be available via this page at the end of April 2017).
First, let's stitch the canvas. You can
purchase the 5" x 5" color printed canvas with silk threads
(or you can supply your own threads) via the link. The canvas-only option is $25.00, and the canvas with threads is $50.00.
Then, start stitching as follows:
If you want to use the same colors we used, and you have purchased Pepperpot Silk threads, then here's our color guide:
Darkest Blue - Pepperpot Raisin 56
Navy Blue - Pepperpot Navy 145
Middle Blue - Pepperpot Provence 138
Palest Blue - Pepperpot Ice Cube 110
White - Pepperpot Salt 002
If you're not sure how to work each of these stitches, here's a guide (just click the links):
Basketweave Stitch
Upright Cross Stitch
Satin Stitch
Wrapped Back Stitch
And, here's a close up of the stitched image so you can see it better...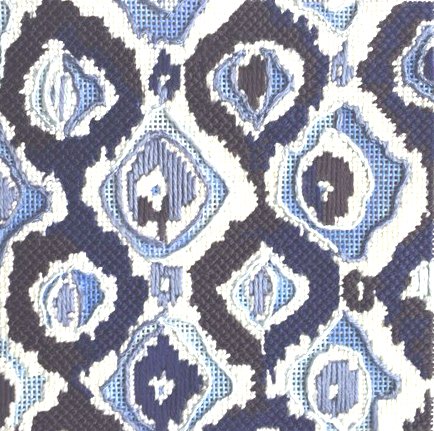 In our next newsletter we'll show you how to frame this yourself, using a store-bought frame and easy to find tools. It will take you about 20 minutes!
Now, we just need to find a wall with good lighting, to show off this needlepoint tapestry canvas design.