Needlepoint Pillow Kits
Needlepoint pillow kits are the easiest way to stitch up your own sofa 'ornament'. With a needlepoint kit, all the decision making has been made for you and there are tons of designs to choose from.
Most needlepoint pillow kits include a color-printed needlepoint canvas, yarns or threads, a needle, and instructions for how to needlepoint. Generally, the pillow backing is not provided. We have an extensive collection of needlepoint pillow kits from all around the world. Take a browse and contact us with any questions about needlepoint pillow kits.
Needlepoint Pillow Kits - Primavera
The Primavera Needlepoint range has some of England's finest needlepoint pillow kits. We have imported them to the U.S where they await your needle! Gorgeous florals with fine detailing, but still plenty of options for the novice stitcher.













Needlepoint Pillow Kits - Fine Cell Work

Fine Cell Needlework is an English charity. Their needlepoint pillow kits are stylish and unique while still being inspired by historical tiles and textiles. We love them.
Needlepoint Pillow Kits - Animal Fayre
Animal Fayre
needlepoint kits are not all about animals - but mostly. Many of these designs are based on ancient tiles and textiles. These English needlepoint tapestry kits offer something traditional, unique and high quality.
Needlepoint Pillow Kits - One Off Needlework
One Off Needlework
of England produces the finest needlepoint kits in a variety of styles. There are kits for children's rooms, needlepoint doorstop kits, colorful Millefiori designs. You won't be disappointed.
Needlepoint Pillow Kits - Modern Needlepoint Kits
Check out our
modern needlepoint kits
from New Zealand and Australia. These pillow kits will surely elevate your sofa and living room decor to a new level.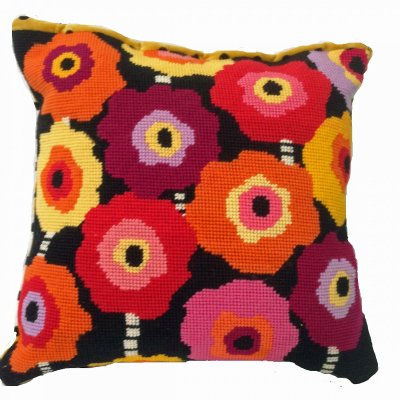 Needlepoint Pillow Kits - Cleopatra's Needle
We import
Cleopatra's Needle
kits from England. These needlepoint pillow kits are the ideal blend of traditional and contemporary. Lots of fruits and florals with colors for any decor.