The needlepoint Running stitch – Less is more!



My mother always told me "less is more". Although she was talking about decorating, it also holds true for needlepoint, especially when you have a busy background on an already complicated canvas. Tapestry Gerbers by Julie Thompson, offered by the design house of PLD Designs, Inc, has been hanging in our shop in Lititz, Pennsylvania since we opened. It is bright and colorful and a show stopper for stitchers and non-stitchers alike. The background is very busy, so determining the stitch to use is important. We decided to feature the canvas in this week's article to show how to turn "less into more". Learn how to do the background in this striking piece using a simple open stitch.



You have a complicated piece and the background is full of color. You love the color, but don't want to detract from the main focus of the canvas -- here the vase with flowers. Your choice is to basket weave the background with thread in each of the colors shown, or do an open stitch in a neutral thread, regardless of the color underneath. The Running Stitch is a simple, open stitch that covers the canvas, but allows you to see all the bright colors underneath.
This open running stitch is over 5. You will do this stitch in continuous horizontal rows.





This stitch can be used on water, the sky, flat ground or any background. If the canvas is a single color, or several shades of the same color, your thread color should match the canvas. Use it on White Poppies Delight by Karen Dukes, pictured above. Pick a medium shade of the blue in the background.


If however, the background on your canvas has many different colors, like Tapestry Gerbers, pick a neutral color (No, I don't mean black or white, but a cream, yellow, light green, soft blue – whatever goes with the area you're covering). Continue with the same thread throughout. In Tapestry Gerbers I picked a creamy off white color. Yellow tended to give the entire piece a golden hue, so I picked something a little more neutral, with a creamy yellow tone.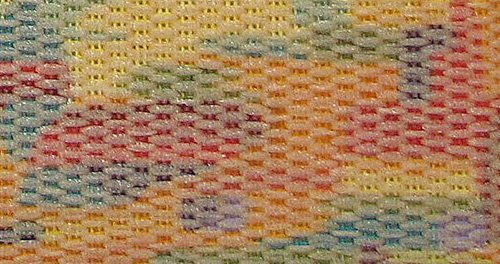 Thread type also becomes important with all that color. If you want the painted canvas to peak through, use a translucent thread. Flare (for 13 mesh canvas) is the perfect choice. When you're finished, the colors will peak through and the background will not detract from the main focus of your canvas.

And, not to worry, although not listed on our web-site, we can provide you with any color Flare you need - just send us a note when you order your canvas at info@needlepointforfun.com or call us at 877-722-8463, 717-847-3688.



Did you enjoy this article?
Share it on Pinterest or Facebook...or both....or any other social media platform you "enjoy".



But, most importantly, don't miss out on reading more information just like it. So, if you're not already tuned in...
Sign up for our FREE bi-weekly newsletter.

You'll get exclusive content like you've just read, you'll hear about new designs and kits as soon as we receive them, plus we run a lot of specials on popular items that only our newsletter readers hear about.


SaveSaveSaveSaveSave
Save