You may be wondering what needlepoint frames are. Essentially, they are wooden frames to which your needlepoint canvas is attached while you stitch.Needlepoint frames are also often called stretcher bars, which is a type of needlepoint frame.
Not only do needlepoint frames keep your canvas taut, and your stitches more even, but attaching your canvas to a frame will also help it to stay clean. If the needlepoint is on a frame you handle it less.
When you use a frame, you are essentially "hands free", especially if you attach the frame to a stand. This means you can keep one hand at the back of the canvas to feed the needle through and the other hand at the front of the canvas to guide from this direction. There is less joint movement involved and therefore less risk of your hands tiring and becoming sore. Just something to keep in mind if you plan to stitch a lot or for long periods of time.
There are a few different styles of needlepoint frame you can choose from. Any of these work well and the type you choose will depend upon your personal preference.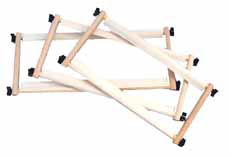 The two main types of needlepoint frame you will see are needlepoint scroll frames and needlepoint stretcher bars. >The needlepoint frames can be held in your hands and rested in your lap, or if you find it more comfortable or convenient you can use a needlepoint stand.
There are advantages to using a stand and you can choose from a lap stand, a floor stand or table stand. Click on the links for information about the various needlepoint frames.



Which Needlepoint Frame To Choose?
Here is a
good article
on how to choose the right needlepoint frame for your project.